Your Beachcabin
Your cottage provides sleeping place for 5 persons (sleeping sofa in the livingroom).
Floorplan:
Fully equipped op kitchen (dishwasher, refrigerator, microwave, induction hot plate and Dolce Gusto coffee machine). Wide open vide with a double bed and unique ocean view!
Ground floor: Light living room with open kitchen, bathroom and a bedroom with a bunkbed. Satellite television - and Free WiFi
The cottage is completely isolated and warmed by central heating, so with every weather you'll have a comfortable stay!!
Outside there is a wide porch with a glass windshield.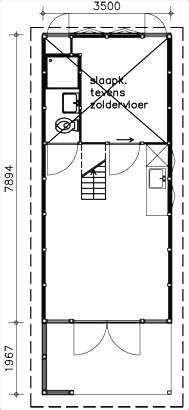 Rental periods
In the low season we rent the cottages also per weekend, midweek or week.
High season week only.
When does the rental period start
Week
Your week starts Friday at 15.00 until the next Friday at 10.00.
A seven night stay.
Midweek
Your midweek starts Monday at 15.00 until Friday at 10.00.
A four night stay.
Weekend
Your weekend starts Friday at 15.00 until Monday at 10.00.
A three night stay.
Deposit
De deposit amount is: € 250, paid up in front. (only PIN payments possible)
Cleaning
required to leave the cottage wipe clean and without dishes. (if you leave the cottage unclean there's and extra fee of €25,-).
Smoking and Pets
We like to keep our cottages pet and smoke free.
Parking
You can find the car park 'Parking garage Boulevard Zeezijde' on a two minute walk. A day ticket costs €10,- or you can buy a week ticket for €35,- with the week ticket you can drive in and out for the whole week.
Additional included
5 x Duvet
5 x Pillow
2 Beach-chairs
Picknick table with beach umbrella
Hammock
Gas, Water en Elektricity
FREE WIFI and TV
Additional excluded
Final cleaning €75,00 (obligated)
Bed linen, towels and kitchen towels €15,00 p.p. (obligated)
Made beds €5,- per bed (optional)
Toeristtax:
2023: €2,05 p.p.p.n.
2024: €2,15 p.p.p.n.